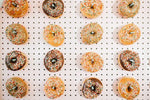 Clever Tips For Organizing Your Home Craft Supplies Collection
, by Tammy Harris, 3 min reading time
If you're a DIY crafter, you know that you can never have too many supplies! But how do you organize your collection of ribbon, paper, vinyl, adhesives, and decorations? If you're stuck with them strewn about your workspace, here are some clever tips for organizing your craft room!
Upgrade your pegboard.
A pegboard is a tried-and-true way of organizing craft supplies, and for good reason! But an unfinished pegboard can give your craft room the look and feel of an old garage rather than a creative space. You can give it some flair by painting the board and adding a frame around the edge. Create subsections for your collection with smaller wooden frames or borders, making clear areas so that your tools and supplies stay organized.
"Spice" up your collection with racks and jewelry holders.
One simple but clever way to organize certain supplies is to repurpose racks and holders for your collection. A spice rack and some jars are great for keeping small supplies like buttons, beads, or googly eyes neat and organized. Jewelry holders can hold smaller ribbons and washi tape. Purchase a wooden rack and you can refinish it in a way that goes with the rest of your room!
Use dowels and curtain rods to hold ribbons and string.
If you have a lot of ribbon or string and are finding it tough to keep all of it straight, create an easy-to-access station of these supplies. One great way to see them all is to thread the spools through dowels or curtain rods and suspend them in your craft room. They'll be available whenever you need them, and you'll prevent them from getting tangled!
Keep your fabric organized in a filing cabinet.
Fabric swatches can take up a lot of space, so creating a designated spot for them is important for organizing your collection. You can store fabric by putting the pieces in a filing cabinet. Organize your swatches by wrapping them around a rectangular piece of cardboard and file them by colour or material. If it's an older cabinet, you can refinish the outside to make it flow with the rest of the decor. It also helps you repurpose a piece of furniture that would otherwise be in the way!
Keep your vinyl in an art portfolio.
Adhesive vinyl and heat transfer vinyl need to stay flat to be most effective. This is what makes the art portfolio one of the best ways to organize and protect your vinyl. Large art portfolios can keep every type of vinyl flat, and the clear pages let you see what each page contains. You can fit in full 12 x 24 sheets in it, too, and it won't take up a lot of space! Crafters who used to be or still are into scrapbooking can also find a use for the racks designed for 12 x 12 sheets.
Tags
---
, by Author

Article title

, by Author

Article title

, by Author

Article title