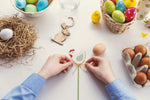 Three Clever Easter Crafts For The Whole Family!
, by Tammy Harris, 3 min reading time
The Easter long weekend can be a fun, relaxing holiday for the whole family, no matter how you celebrate. Before preparing your large dinners - or digging into a basket full of chocolate - why not sit down as a family and make some crafts together? Kids and parents alike will feel super creative with these ideas! 
Easter Egg Alternatives
Easter eggs are a time-honoured tradition, but not everyone has the patience to go through all the steps. As well, once your kids get sick of it, you are left with many "trial" eggs, those tiny oval canvases that didn't make it to the finish line. Try some alternative crafts that aren't as messy and don't require those flimsy painting kits. All you need are crafting supplies and a little imagination! 
Start by cutting out egg shapes from cardboard, construction paper, or tin foil, then go crazy! Everyone can get expressive, or parents can show the kids how to arrange different materials based on size and colour to make a great piece of art. One great idea is to take lots of colourful buttons and glue them into place on an egg-shaped card. Your kids can decide what pattern to make, whether in stripes, spots or just placed at random.
Another is to use ribbon. Different widths, colours, and patterns can be laid out on the egg shape to create striped pictures worthy of hanging on the wall! 
Egg Or Pine Cone Easter Bunnies
Eggs and pinecones are two symbols of springtime. Using them to make little Easter Bunny crafts is easy! All you need are crafting supplies like glue, felt, twine, wooden beads, pom-poms, and googly eyes. You can even paint the little springtime animals in whatever colour you want without worrying about getting the eyes and nose right. 
Instructions: 
Put together little ears with the construction paper or felt and glue. The parents might have to do this if the felt is too thick or they're using a glue gun. 

Slide a short length of twine through the wooden bead to make a nose and whiskers. Stick the twine in the bead and secure it in place with glue. When it's dry, gently untwist the twine so that it separates into the whiskers.

Glue the googly eyes, ears, nose, and whiskers onto the pinecone or egg. Glue a pom-pom onto the back to make a little tail!
They'll be the perfect little buddies for the egg hunt or a cute little addition to an Easter dinner centrepiece. Your kids will be proud to show off the final results!
Easter Vinyl Cut-Outs
We decorate for Thanksgiving, Halloween, Christmas - why not help your kids get in the festive mood around Easter? Apart from the little pinecone bunnies and Easter egg crafts, you can use adhesive vinyl and design programs for the Cricut to make creative signs and easy-to-stick decals for the windows, doors, and walls in their room. It will make the morning egg hunt a lot more fun!
Tags
---
, by Author

Article title

, by Author

Article title

, by Author

Article title