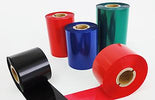 What Is A Thermal Transfer Ribbon?
, by Tammy Harris, 2 min reading time
Thermal transfer printing is a digital printing method in which a coat of ink is applied to a substrate at a high heat so that the print is super durable. It's a way of printing long-life, permanent designs that can handle direct sunlight and outdoor conditions. The printers use a thermal transfer ribbon to apply the design.
This kind of ribbon is not your typical ribbon, but it is perfect for larger-scale crafters who need to add a personalized touch to their work! While they are great for labels and logos on heat-sensitive surfaces, some types of thermal transfer ribbon are better than others.
Using The Right Ribbon: Full Wax, Wax/Resin, Full Resin
Thermal transfer ribbons are polyester strips coated with a layer of ink. The heat from the thermal head of the printer transfers this ink to the substrate. There are three types of inks: full wax,
wax/resin, and full resin.
Full wax ribbons
are the most common thermal transfer ribbon. They use a wax-based ink that is cheaper than other kinds, but also less durable. They are more suitable for short-term labels like cards, mailings, and other projects that may end up in the recycling bin not long after opening.
Wax/resin ribbons
use a mix of wax and resin to give the labels more durability. The mix of the two inks lets you print on fabric, coated paper stock, and waterproof materials. While it does cost more than full-wax ribbons, it's also a good choice for products that will be frequently handled or exposed to changing temperatures or weather conditions.
Full resin ribbons
, the most expensive option, is also the most resilient of the ribbons. It can stand up to high and low temperatures, harsh weather, and more for up to six months. For non-specialized situations, though, the full wax or wax/resin options are more cost-effective.
What Can You Use Thermal Transfer Printing For?
Because of the quality and durability of the thermal transfer process, these ribbons are popular for printing identification labels, and it is the most used for printing high-quality barcodes. It's also ideal for clothing labels and identification printed on fabric to mark clothing. For DIYers selling their crafts, thermal transfer printing is perfect for printing labels. You can buy coloured ribbon to print your logo, graphic, or text in the colour you desire. You can even print onto other ribbons!
However, the high price of thermal transfer printers keeps them out of the hands of most at-home crafters. These ribbons are great for printing businesses, custom shirt makers, online stores, and other larger crafting operations, though! If you need durable labels for a homemade craft, take your item to a local place that has thermal transfer capabilities and see if they can do the printing for you!
Tags
---
, by Author

Article title

, by Author

Article title

, by Author

Article title