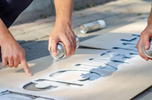 What's The Best Material For Stencils?
, by Tammy Harris, 5 min reading time
Stenciling is one of the best ways to do DIY design work. Whether you use it for clothing, housewares, or home decor, stencils bring much-needed precision to craft projects. This makes choosing the right material for your stencils very important. As a crafter, learning to use stencil film with your vinyl cutter can free you from the limitations of store-bought stencils!
For a long time, one material dominated the stencil market. Now, crafters have more options that give additional flexibility and durability, giving even new crafters the ability to make more intricate designs! However, if you are new to stenciling or have a little bit of experience, you could be using the wrong stencil for what you are trying to create. 
Mylar
One of the favourite materials for stencillers over the years has been Mylar. Often considered a generic plastic sheeting, Mylar is a brand named polyester film. If you work at DuPont, you might know it as Biaxially-oriented polyethylene terephthalate, or BoPET for short. Many crafters know it simply as a durable, flexible sheeting that has worked very well in making customized stencils. 
Mylar has its problems, however. It can be an expensive option compared to other materials, and it provides little transparency, making lining up the design tricky. Not all Mylar stencil sheet products are self-adhesive, meaning many options won't work on uneven surfaces. To make stenciling easier and more exact, you should use stencil film.
Oramask Stencil Film
Stencil Film is a special PVC vinyl material developed to make a wide range of design applications more conformable. It's specifically designed to help paint and spray techniques work on complex curves, uneven or semi-flexible surfaces, and make the surface more visible when necessary. 
The best stencil film comes from a vinyl company named Oracal. They have taken the durability and flexibility that was once best found in Mylar and improved the user experience. RQC has three amazing products available, and they'll suit all your stenciling needs: 
Oramask 810:

This stencil film is a 3-millimeter thick, highly flexible, translucent PVC film. It has a matte surface that is formulated for better handling of the stencils. It is the choice for uneven surfaces, and you should choose Oramask 810 stencil film for difficult substrates. It even works well if the surface is wet! There is a lot of things you can do with this stencil. I would suggest this stencil if you were working with wood. Since this stencil works well on uneven surfaces, the paint has a smaller chance of bleeding trough. 

Oramask 810s: If I were to describe this stencil, it's description would not be that far off from 810. This is because the two stencils are like sisters. They are similar and can maybe used for the same craft, but they have different strengths and weaknesses. 810s is designed to be used in automobile painting or marine applications. Due to the solvent-based adhesive, you can use higher saturation solvent paint and stains. It all depends on what type of paint you were going to use. If it is a higher solvent-based paint, I will not hesitate to pick 810s.
Oramask 813:

This is the best all-around option, and because it rarely comes unstuck, it is perfect for airbrush applications. Oramask 813 is suitably transparent, too, so when removing unwanted vinyl from the design (also called weeding), you'll have no issues seeing which cut lines you should weed out. Because Oramask 813 is compatible with cutting machines like Cricut and Silhouette, it's the perfect choice for those new to stenciling! This stencil is versatile enough to be used in various applications like glass and metal etching, perfect for wood signs, and it is durable, so it works great for indoor and outdoor projects. One thing to remember with oramask 831 is If you need to heat the project to 250° F, OraMASK 813 will not work. This is because it can only handle 145° F. So please keep that in mind when selecting your choice of a stencil. 
When you start your project, I would suggest making a checklist to help decide what stencil to use. Listing what type of paint you are using and what you will be applying the stencil can help determine what product to use. Also, make sure when applying your stencil to any surface that the surface area is clean. This will prevent paint from bleeding through your stencil! All in all, I would say that with any new item, the best way to learn is trial and error. Like everyone says, "you don't know until you try!".
All stencil films easy to cut and self-adhesive but won't pull away any paint or surface if you've made a mistake. You can get either product in individual sheets or by the yard if you do serious stenciling. With Oramask stencil film, there's no need to settle for inexact designs and stencils that won't adhere to the surface! I hope this helps with clearing things up as to why we carry so many different stencil vinyl. Once you learn how to use your stencil, the possibilities are endless. 
Tags
---
, by Author

Article title

, by Author

Article title

, by Author

Article title