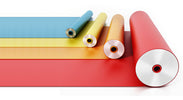 How to Order Vinyl
, by Megan Green, 1 min reading time
At RQC Supply, we have a wide variety of Heat Transfer and Adhesive Vinyl styles, colours and lengths. You spoke, and we listened - one of the most common pieces of feedback we've heard from our crafters is that they found the process of selecting their vinyl length to be a confusing experience. 
Moving forward our vinyl will be sold in pre-cut lengths of 1 foot, 3 feet (1 yard), 6 feet (2 yards), and 15 feet (5 yards). Each of these sizes will be listed on the storefront separately as their own product. A teal banner will be located in the top left corner of the main images indicating which length product you are looking at (see example image below).
How to Order Your Vinyl
Find the product in the correct size you wish to order and click the "Choose your options" button.
The product page will open, scroll down and select your vinyl colour.
Either type in or use the +/- buttons to enter the quantity of the pre-cut lengths you want for that colour.
Finally, click the "Add to Cart" button.
If you've ordered Siser EasyWeed HTV from us within the last week you may have already noticed the updated look. We are currently in the process of updating our other vinyls as well. 

Watch this video to see a desktop browser demo:
To view a mobile demo, watch this video: 
Tags
---
, by Author

Article title

, by Author

Article title

, by Author

Article title