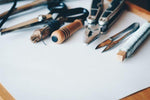 100 Crafting Blogs to Read in 2018 | Ribbon Queen Canada
, by Adam Clark, 11 min reading time
Looking for craft inspiration? A great place to start is to check out the amazing blogs dedicated to everything crafty!In this article, we'll discover the best 100 crafting blogs to read in 2018. We've subdivided the list into categories, to make it easy to find precisely the right resource for your needs.General Craft BlogsOh Happy [...]
Looking for craft inspiration? A great place to start is to check out the amazing blogs dedicated to everything crafty! In this article, we'll discover the best 100 crafting blogs to read in 2018. We've subdivided the list into categories, to make it easy to find precisely the right resource for your needs.
General Craft Blogs
Oh Happy Day
- A fun and colourful blog, full of ideas for party crafts.
Thanks, I Made It
- Amazing ideas for DIY jewellery, with tutorials.
C.R.A.F.T.
- Stands for 'creating really awesome fun things', and it certainly delivers!
Paper and Stitch
- Full of creative ideas for crafty projects to display throughout the home.
Oh The Lovely Things
- Practical ideas for craft projects to complete all year!
Crafts Unleashed
- Tips and tricks for all kinds of crafts.
Mer Mag
- Sophisticated ideas for DIY craft projects.
So You Think You're Crafty
- Whatever your niche, there are plenty of ideas and tutorials to be found on this blog.
Studio DIY
- Delightful craft projects and tutorials for you to try.
Brit & Co
- Crafts meet lifestyle in this beautifully-presented blog.
Crafts on Sea
- A wealth of crafty ideas for kids and adults alike!
Crafts from the Cwtch
- Cosy ideas and craft projects, with a Welsh twist!
The Purple Pumpkin
- Craft ideas, lifestyle stories, and recipes make this a fun destination for a good read!
A Girl and a Glue Gun
- Great ideas for DIY craft projects.
Sugar Bee Crafts
- An inviting blog with lots of ideas for simple crafting tasks.
Kids Craft Room
- Tasks and projects for little helpers!
Red Ted Art
- Colourful, exciting ideas for your home and lifestyle.
Rainy Day Mum
- Tips and craft ideas for kids.
Heart Handmade
- Everything you need to complete DIY craft tasks.
Mum in the Mad House
- Looking to occupy your kids free time? You've found the right place!
Paper Crafts & Card Making
Paper Crave
- Stunning designs and ideas for your own paper projects.
The Card Grotto
- Step-by-step tutorials and inspiration to create beautiful cards.
Taheera Atchia
- Sophisticated designs to take card making to a new level of elegance.
Stamp with Tami
- Useful ideas to make cards for every occasion.
Prairie Paper and Ink
- Blog with inspiration for a full range of paper craft projects.
Simply Simple Stamping
- Novel ideas to make your handmade cards pop!
KB Papercraft
- Delightful card making ideas, presented in an accessible format.
K Werner Designs
- Card making tips and tricks, with handy video tutorials.
Dawn Griffith
- Practical ideas for stunning cards, with step-by-step guides.
Lou Sims, Papercrafter
- A wealth of ideas for paper projects, covering all seasons and holidays.
Knitting and Crochet
Underground Crafter
- Tutorials and ideas for knitting, crochet, and general crafts.
GG Made It
- Tutorials, interviews, and life stories interwoven with Gaye's amazing writing style.
Crafternoon Treats
- Fabulous ideas for projects, with an accompanying podcast.
Fresh Stitches
- A beautifully-designed and intuitively-organised blog with great tips and tutorials.
LillaBjörn's Crochet World
- Patterns, tutorials, and inspiration for your own crochet projects.
Accrochet
- Practical tutorials and projects with a purpose, including clothing, accessories, and pieces for the home.
Fiber Flux
- A one-stop destination for all things knitting and crocheting, including patterns and tutorials.
Emma Varnam
- Crochet tips, tricks, and patterns.
Small Things
- A stylish and practical collection of posts about all things knitting and lifestyle.
Look What I Made
- Useful ideas, new product reviews, and tutorials.
Needlework
Needle 'n Thread
- Patterns, tutorials, and techniques to perfect your needlework.
Feeling Stitchy
- Contemporary designs, useful tutorials, and a stylish aesthetic.
Craftsy
- Practical inspiration, tutorials, and re purposing ideas.
Carina's Craft Blog
- Mixed crafts with a focus on needlework.
Sublime Stitching
- As the name suggests, a sublime collection of tutorials, inspiration, and news.
Stitching Kitchn
- Interactive, practical tutorials to help you finesse your stitching skills.
Needlepoint Stitch Guides
- A showcase of beautiful pieces, with useful tutorials to help you make your own.
Karen Barbé Blog
- Spectacular embroidery meets visual art.
Kimberly Ouimet
- Delightful designs and helpful tutorials.
Make It Coats
- A blog full of wonderful ideas and tutorials for every project.
Scrap Booking
Scrapbook.com
- The ultimate destination for resources, tips, and ideas for scrapbooking.
Digital Scrapper Blog
- Ideas for designing your own digital scrapbook elements.
Pink Paislee
- Visually appealing, well-organised blog, with lots of tips and tricks.
Paper Wishes Blog
- Practical ideas and tutorials to help you create beautiful scrapbooks.
All For The Memories
- Scrapbooking inspiration for every occasion.
Scrapbook Update
- News from the scrapbooking community, convention updates, and product releases.
Studio Girls Blog
- Inspiration and tutorials, with a quirky edge.
Get It Scrapped
- Fabulous tutorials and ideas, with a handy how-to section.
Z Design
- Written tutorials and video guides for everything scrapbooking.
Designer Digitals
- Inspiration and ideas with a focus on digital scrapbooking.
Bullet Journals
The Bullet Journalist
- The definitive resource for all your bullet journaling needs.
Tiny Ray of Sunshine
- Practical tips, tutorials, and helpful infographics.
Bullet Journal Joy
-Resources for beginners through to experts honing their skills, with free printables.
The Bullet Journal Addict
- Advice and inspiration for beautiful bullet journals.
Page Flutter
- Organisation, lettering, and illustration ideas to help you build a spectacular journal.
Bree Berry
- Gorgeous examples, practical tips, and tutorials.
Ohayobento
- A wealth of ideas for integrating a bullet journal into your life, including tips for businesses.
Christina 77 Star
- Practical tips for using a bullet journal to plan your life.
Decade Thirty
- Beautiful ideas for the design and use of a bullet journal.
Boho Berry
- Whether you're just getting started or looking for advanced tips, this blog has you covered.
Calligraphy
A Fabulous Fete
- Beautiful lettering and calligraphy, with tutorials for your own projects.
Pieces Calligraphy
- Ideas, tutorials, and practical steps to improve your skills.
The Postman's Knock
- Stunning calligraphy and tutorials to optimise your lettering potential.
Julia Bausenhardt
- From beginners to professionals, there's something to learn from and enjoy on this blog.
Pretty Prints and Paper
- Colourful, fun, and useful! Tutorials and inspiration for your own projects.
Kelly Creates
- Tutorials, ideas, and regular giveaways.
Written World Calligraphy
- Ideas and tutorials, with a focus on calligraphy for events.
Logos Calligraphy
- Inspiration for invitations and other event stationery.
Liz Amyah
- Gorgeous, contemporary calligraphy in a wide variety of styles.
Laura Hooper Calligraphy
- Ideas, tutorials, and advice for calligraphy and lifestyle topics.
Pottery and Ceramics
Fire When Ready
- Inspiration and discussions of everything pottery-related.
Alchemy of Clay
- Beautiful pottery, techniques, and tips.
The Potters Cast
- Contemporary ceramic designs, interviews, and an associated podcast.
Musing About Mud
- News, tutorials, and guidance for the budding pottery enthusiast.
Carter Gillies Pottery
- Pottery advice, news, and history.
Clay By Laura
- A mixed craft blog with a focus on ceramics and pottery.
Meesh's Pottery
- Practical pottery advice, news and event information.
Why Not Pottery
- Updates from the kiln, project ideas, and inspiration.
Ron Philbeck Pottery
- Ideas and tutorials, with a very useful associated Instagram page.
C File
- A visually impressive blog with cutting-edge ceramic and pottery inspiration.
Bead-Work
Making Beaded Jewelry
- A fabulous repository of resources for beginners to experienced bead-work hobbyists.
Interweave
- Ideas, news, and inspiration for your beading projects.
Beadsmagic
- Patterns, and ideas for a variety of beaded jewelry items.
Endangered Trolls
- Beading inspiration with an alternative edge.
CJ Beaders
- Ideas for jewelry items and special projects.
Craftaholique
- A blog with inspiration for a range of craft projects, with a focus on bead-work.
Beading Arts
- The intersection of art and beading is explored in this exciting blog.
Candie Cooper
- Beading inspiration with a focus on jewelry.
Eve Leder
- Ideas and inspiration for beautiful beaded jewelry projects.
Trollbeads
- Styling tips and tutorials for bead-work. Whatever your crafty niche, you're sure to find the right blog for your needs by checking out the suggestions on this list. Good luck and happy crafting!
Tags
---
, by Author

Article title

, by Author

Article title

, by Author

Article title