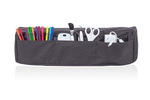 5 Things You need to know about your Cricut 
, by Abbey H, 3 min reading time
The
Cricut
machine is a must-have when you are a crafter that works with vinyl! From adding vinyl to clothes or creating stencils for major projects, Cricut has you covered. I think it is safe to say that most crafters are learning more and more with what they can do with this them! Below are 5 things you need to know about your Cricut, and let me tell you that if you already own a Cricut, this is still a must-read!
1. Print wallpaper with your Cricut
If you have recently moved into a new house or looking for a little way to spice up your office,
vinyl print wallpaper
is for you! With this, you can make a whole custom wall with your Cricut that no one else probably has!
Another great thing about vinyl wallpaper is you can change it at a moment's notice! When picking out wallpaper, most of the time, you have to commit to a design that is going to be in your house for over 10 years! With vinyl, you can remove your wallpaper at a moment notice, and it is easier too! You can even print out the vinyl and tape it to the wall to see if you like it there or not!
Tip:
  Cricut Joy can cut up to 20 feet continuously. This is amazing if you are creating a long strip of vinyl wallpaper.
To do this project, you will need:
Cricut machine
Removable vinyl*
Transfer tape
Weeding and scraper tool (optional)
Tape measure (optional)
2. Make stencils
I am pretty sure that you already know that you can make stencils to draw on paper, but did you ever think outside of that box? There are so many projects you can make with the idea of stencils.  One of them being a
concrete rug
for the outdoors.
Never heard of it? This project is mainly about spicing up your back yard! By making a vinyl stencil, you can paint a concrete pattern, making it look as if you have a rug outside! Creating one square and repeating the pattern makes the look of a rug!
Tip: make sure that you have a clean concrete surface to work on. If it isn't clear, the paint will not stick, and it will flake off! We really wouldn't want that.
To do this project, you will need:
Cricut machine
Concrete paint in the color you desire
Vinyl for stencil
Concrete cleaner or etching primer
Painter's tape
Paint tray
Polyurethane for paint sealant
Stencil brush (multiple sizes)
Paint roller with outdoor brushes
Outdoor paintbrush
3. Create nail stickers 
Looking for a way to change up your nails. With the power of the Cricut and vinyl, you can do this! Using the design space, you can make custom designs for your nails! Just measure out the size of your nail and create a design that works perfectly for you!
To do this project, you will need:
Cricut machine
Program design space
4. Write in gorgeous calligraphy
Now, this is cool. With the Cricut design pens, you can design any text that you want! Which is perfect for so many projects! Want to frame some beautiful handwritten quotes? Creating a homemade card and you can't find the right font you want? This Cricut pen is the product for you and your crafting heart!
5. Charge your phone
On top of all the fantastic things I had just listed above, you can even charge your phone with your Cricut. This means your phone can be fully charged by the time your project is done. It even has a spot to put your phone, so it can sit comfortably while it charges!
Tags
---
, by Author

Article title

, by Author

Article title

, by Author

Article title