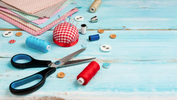 Crafting Supply Trends To Watch Out For In 2020
, by Tammy Harris, 3 min reading time
Whether you're a dyed-in-the-wool DIYer or new to the crafting world, you know that craft projects are great because of their variety. There's always something new to try! This year is no exception, but 2020 will be a time when more people will engage with making personal projects as a way of saving money, standing out, and helping the environment. Here's what we can expect in terms of crafting supply trends through the new year and beyond!  
The Trendiest Colour Of 2020
Crafting isn't immune to the general decor trends, especially when it comes to favorite colours.
Pantone
is the company that determines the annual "Colour of the Year," and for 2020, their choice is interesting in how basic it is: Classic Blue. Comparing it to the "sky at dusk," Patone's choice means there's a great chance many ribbons, vinyl, and other crafting supply trends will come in a comforting, familiar shade of blue!  
More Digital And Machine Crafting
We've loved Cricut and Silhouette for a long time now - they're perfect for cutting vinyl designs - but in 2020, these machines will become even more popular. Over the years they have become more interactive, and more people will want to combine technology with DIY crafting. One of the best is Cricut Design Space. This is a web-based software that lets you browse through projects and design your own on your desktop, laptop, tablet, and even your phone. The Design Space includes over 75,000 images, 400 fonts, and more than 800 predesigned "Make it Now" projects.  
DIY Crafts On "Blanks"
Many items are special because of the design, but what do you do when no company makes the design you want? Do it yourself, of course!
Blank products
- clothing, dishes, pillows, stuffed animals, and other specialty items - are a great way of making something yourself without having to learn sewing or glass blowing. As more consumers look for unique designs and one-of-a-kind items, they'll turn to blank items for a suitable canvas! Blanks are great for all kinds of craft supplies, from
vinyl
to custom embroidery. From clothing items to mugs and other drinkware, many different items will look great with your custom designs on them! They let you show off your abilities and stand out with unique products designed by and for you!  
Environmental Crafting Supply Trends
The environment is all anyone will be talking about in 2020, and eco-friendly supplies will be big. Like many other people, crafters will be more mindful of where their supplies come from and what they're made from. They'll want to use recycled materials and
sustainably-made supplies
, as well as mend items at home. Many are choosing ribbons, yarn, and fabric coloured with natural dyes. Most homemade craft-making is already a sustainable hobby, but we'll see this trend gain momentum as the year goes by. There's one trend that isn't related to supplies but will still have a huge impact on crafting this year: a more diverse range of crafters! Young or old, male or female, everyone's getting in on crafting. More people are seeing craft projects as great ways to detox your digital life and spend some time away from the screen. We agree!
Tags
---
, by Author

Article title

, by Author

Article title

, by Author

Article title