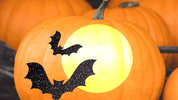 3 Creative Pumpkins to Improve your Halloween
, by Abbey H, 3 min reading time
Looking for some ways to spice up your Halloween decor this year? We Have 3 Great Ideas to make your pumpkins stand out! Have you ever thought of creating vinyl for your pumpkin? Well, let me be the first to tell you it is a big trend this Halloween. Create a vinyl for it can really add and extra flare. You can even create a stencil to help you carve your pumpkin for a more traditional look with the help of Oracal Oramask 813 Stencil Film! and last but not least, for the pro level crafters, You can even paint it with help from our trusty Stencil Film!
1. Adding Vinyl to Pumpkins
Adding vinyl to your pumpkin is a way to use your vinyl scraps! Plus it can make some fancy decor for your front porch this year. It is a simple process and makes for beautiful, custom to your liking, results. Who wouldn't want that! Here are some tips to keep in mind when creating this fancy pumpkin:
Make sure your pumpkin is clean and dry before placing the vinyl.

Pick out a pumpkin that looks relatively healthy.  This way the pumpkin can last up 8 to 12 weeks!

Permanent vinyl is better for pumpkins because it will stay on longer.  It will hold up better with the weather.

Remember that a pumpkin is a curved item, so take your time placing down the vinyl.  Patience is the key to any craft!
2. Using a stencil film for carving
Looking for a more classic pumpkin? Then how about using a stencil, and to make it easier why not use Oracal Oramask 813 Stencil Film! This is a straightforward way to make sure that it is going to look awesome on your front porch.  One of the best things is with a stencil it will curve to the edges of your pumpkin.  Here are some tips to get the best results for your classic look:
Make sure your stencil design isn't too complex! You still need to cut out the shapes!

If you have a small hole in your stencil and you're not sure how you are going to carve it out, poke little holes with a small paring knife till you can push the piece out if it.

When applying the stencil to your pumpkin, place it with the design up (to face you).  This can help to apply the stencil easier.

If the vinyl doesn't go on nicely remember you will be taking it off once you're finished, so it's ok if it doesn't look as pretty as you wanted it to be
3. Using a stencil film for Painting
Last but definitely not least painting on your pumpkin,  using again, your trusted oracal oramask 813 stencil film.  This one is for more of a pro crafter, but honestly, anyone can do this.  The only thing is when applying your stencil; you have to make sure that any edges are down. This prevents the paint from sliding underneath the stencil!  Here are some more tips as well:
Look at your pumpkin and let the shape of it inspire your look.  For example, a taller one may look a little more like a Frankenstein's head.

If you are using light coloured paints, you may need to add additional coats. You could also add a white base coat to get the light colour to pop more.

If you're placing it outside, try to keep it out of direct sunlight or heat to make the paint last longer.
There are so many ways to spice up your Halloween with crafting, and that statement goes for any holiday!  We would love it if you tagged us on social media with some of your creative pumpkins.  We will repost some of your favourites!
Tags
---
, by Author

Article title

, by Author

Article title

, by Author

Article title