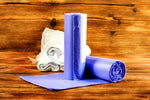 How To Apply Heat Transfer Vinyl With Iron
, by Todd Foster, 5 min reading time
Everything You Need To Know About Applying Heat Transfer Material
Have you ever wanted to create custom t-shirts or tote bags for your loved ones? Do you have an artistic side and are yearning to use your abilities to make products many people would love? Becoming a good crafter takes time and effort and is definitely not an overnight process. The thought of using heat transfer vinyl, also called iron-on vinyl, may seem intimidating for most people, but can actually be quite simple if you follow the right steps.
If you want to learn more about the process of applying HTV or iron-on, you've come to the right place. Here is everything you need to know.
What Is Heat Transfer Vinyl?
Heat transfer vinyl, also called HTV for short, is a specialty polymer often used on certain fabrics and materials in order to create designs or promotional products like hats, shirts or bags. The vinyl will come in the form of a vinyl roll or sheet and also has an adhesive backing that is activated by the heat so that it can be cut, weeded and placed on your soft goods that need heat for application.
The best part is that HTV doesn't require a professional heat press. In fact, the entire design can be done at home and is a great DIY opportunity. All you need is an everyday iron!
Let us walk you through the steps on how to complete your craft with a household iron.
Creating Your HTV Project
As mentioned, heat transfer vinyl can be applied with an everyday iron. On shirts, bags or any type of garment - the possibilities are truly endless. Here are the steps you should follow when it comes to HTV.
Step 1: Set Up Your Design Space
One of the most important steps to any HTV design project is to set up your workspace. You want to ensure you avoid surfaces that will suck up too much heat from your iron, as this will ultimately take heat away from your garment. Even though you're using an everyday iron instead of a heat press, it is not recommended to use an ironing board or granite countertops.
Step 2: Prepare Your Base Material
Although this step is optional, it's definitely recommended. In order for your iron-on design to hold to your fabric, you should consider washing the item if you are not using a new t-shirt, but a brand new t-shirt is ideal. Iron your t-shirt in advance prior to decoration. Doing so will allow you to get rid of wrinkles, remove moisture and pre-shrink the garment. Your everyday iron-on hot-peel will set much better if you prepare your materials in advance.
Step 3: Finalize Your Cut Design
Next, you'll want to ensure you have a cut file that you're satisfied with. This is essentially a digital image you can create using programs such as Silhouette Studio or Cricut Design Space. You may need to create a test cut before deciding on the end result. When it comes to cutting HTV, you will need to use a cutting mat and cutting machine for the best results. The Cricut Joy can cut HTV quickly and efficiently in the comfort of your own home.
Step 4: Place Your HTV Decal On Garment with Cover Sheet
After you've cut heat transfer vinyl, you'll need to decide where to place it on your new t-shirt or other base material. All HTV will have an adhesive side aka the non shiny side, so you'll need to remove the vinyl from your design that is not needed aka weeding. It's important to remember that all base materials must be completely dry in order to iron on vinyl.
Step 5: Set Your Makeshift Heat Press To The Correct Setting
Before you begin to use your iron on vinyl, you'll want to ensure it is set to the cotton setting. Having the right heat setting will make all the difference when you apply your adhesive vinyl. It is also best to use an iron without steam holes as this will negatively impact the ability to apply pressure.
Step 6: Apply Good Pressure Onto The Iron-On Vinyl
HTV requires a combination of more heat + right time + equal pressure in order to get the best results. Start off by applying medium pressure with your iron, increasing it every 5 seconds or so. The average pressing time for each area should be between 10-15 seconds. You'll need to determine that sweet spot between pressure and the amount of time you should leave your iron on the fabric, remember do not slide your home iron as that will cause the adhesive to slip out from under the design lift and replace the iron.
Step 7: Allow To Cool And Enjoy!
After you have applied your iron-on decal to your fabric, you should wait until it cools. Refer to your HTV instructions if your using Siser there is a handy app you can download on android and IOS, some htv is hot peel, some is cold peel. Remove the carrier sheet and get ready to enjoy your newest garment!
---
, by Author

Article title

, by Author

Article title

, by Author

Article title